Cable Management Panels
Ordering Information for Cable Management Panel
Cable Management Panels
◎ Basic Features:
☆ Manage cable at the front and rear of racks for managing cable installations in an extremely neat appearance.
☆ Maintain cable bending radius.
☆ Available in both 1U and 2U options.
☆ Fit for data patch panels & 110 patch panels .
☆ Metal and plastic type for selection.
☆ Normal types & duct types for selection.
☆ Large capacity duct for managing cables quickly.
☆ Mounting to standard rackmount 19" racks.
☆ Manage patch cords, providing appropriate route for the horizontal or backbone wiring and patch cords.
◎ Product Highlights:
☆ Each cable management panel can work independently, not interfering with other cable management panels.
☆ Provide cable management at the rear of rack, suitable for different cable installation requirement. Cables can
be managed quickly at the rear part, thus providing effective cable management in a compact environment.
☆ Metal design enhances the product durability.
☆ The special routing design of the panel can maintain the bending radius of the cables effectively.
◎ Ordering Information:
| | | |
| --- | --- | --- |
| Part No. | Description | Dimensions |
| AD-RP-M-FR-1U | 1U Cable Management Panel (Metal Type) with rings at the front and rear | 1.8"×19" |
| AD-RP-M-F-1U | 1U Cable Management Panel (Metal Type) with rings at the front | 1.8"×19" |
| AD-RP-M-FR-2U | 2U Cable Management Panel (Metal Type) with rings at the front and rear | 3.6"×19" |
| AD-RP-M-F-2U | 2U Cable Management Panel (Metal Type) with rings at the front | 3.6"×19" |
| AD-DP-M-FR-1U | 1U Duct Panel (Metal Type)-with ducts at the front and rear | 1.8"×19" |
| AD-DP-M-F-1U | 1U Duct Panel (Metal Type)- with 1 duct at the front | 1.8"×19" |
| AD-DP-M-FR-2U | 2U Duct Panel (Metal Type)-with ducts at the front and rear | 3.6"×19" |
| AD-DP-M-F-2U | 2U Duct Panel (Metal Type)-with 1 duct at the front | 3.6"×19" |
| AD-110WM | 110 Cable Management Panel without legs | 3.6"×19" |
| AD-110-WM-L | 110 Cable Management Panel with legs | 3.6"×19" |
| AD-110-WM-1U | 1U 110 Cable Management Panel without legs | 1.8"×19" |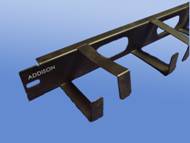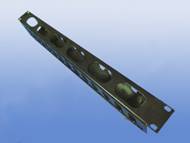 1U Cable Management Panel Duct Cable Management Panel 110 system Cable Management Panel